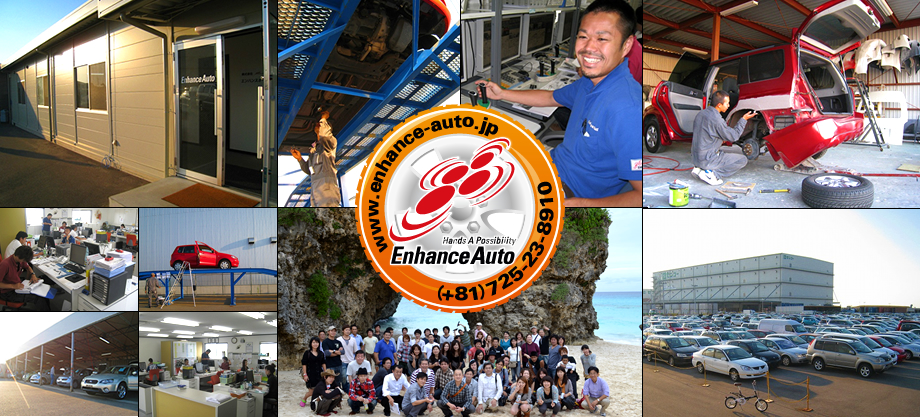 Dear Customer,
Welcome to the ENHANCEAUTO best source for Japanese vehicle for export!
EnhanceAuto is an innovative company dedicated to providing the global market with the highest quality Japanese car.
Our focus is on the superior customer satisfaction for our valued clients. Our goal is nothing less than exceeding your expectations.
We EnhanceAuto have a unique position to obtain any Japanese based saloon car, SUV or truck for direct export to your home country, with our vast experienced and professional affiliations within the diverse Japanese vehicle market. This allows us to find the exact vehicle you are looking for and offer it to you at an exceptional price and value. In addition, we are located at the crossroads of international shipping ?port of Osaka. We have close relationships with some of the most respected and reliable freight forwarders and carriers as well as an overseas network of contacts to help ensure prompt, safe delivery of your vehicle export.
We EnhanceAuto make it easy and affordable for you to import your dream car safely to your home country. We even offer a total vehicle supply and shipping solution that can have your vehicle delivered right to your port! Whenever you like to import a saloon car, SUV or truck from Japan, we EnhanceAuto combine quality vehicle with superior straightforward service and can get you into your ideal car quicker and easier than you ever thought possible. So browse our large inventory of high quality Japanese export vehicle completed with detailed over 20 photos (www.enhance-auto.jp) and descriptions. If by chance you don't see what you are looking for, then just ask our staff to use special website system 'Search Engine'!
You can be confident that you are dealing with a reputable company as we have been a longstanding of heiwa-group as well as a proud diversified association.
Please put our dynamic group company to work for you and get the best Japanese sourced export cars direct from Japan with the quality, safety and speed that only EnhanceAuto can provide. Enhance car exports done right!
Our cooperate group is (HeiwaAuto, AutoPortal, Joyfit, MarvelousCream, Marugen Ramen, Araiyahonpo).
Plus we have close & long term relationships with "Toyo-Syoji Ltd" that the most respected and reliable repair shop in our yard.
Also "Touzai Kaiun Ltd" is domestic marine carrier as well as logistic network of contacts to help ensure prompt, safe delivery of your vehicle export.
Now are you looking for luxury saloon vehicle, premium SUV or commercial for business use and can't seem to find it in your country for a fair price? Never afford that dream car that you have always imagined yourself driving? Have you been losing opportunity for brash Japanese luxury or simply just looking for a great deal on a quality vehicle? Then you have come to the right place because we are your inside connection to the best car for export available. Whether you are an automobile connoisseur, dealer or importer, we can provide you with high quality Japanese vehicle at great prices.
Looking forward your good reply soon!
Thank you.
EnhanceAuto / Staff